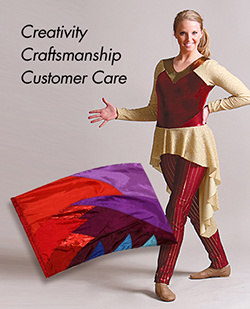 Call 260.452.1600
Avant Guard Flags & Costumes, LLC takes great pride in creating unique and dynamic flags and costumes that enhance the musical selections in your production.
For 25 years, we have worked with numerous high school and college marching bands, drum and bugle corps, winterguards and winter drumlines.

Let our passion for design, color, texture and precise workmanship help you create flags and costumes that can only be described as breathtaking. Let our many years of experience and dedication make your designs come alive!
We take great pleasure in making your organization look it's absolute best!
Sincerely,
Steven Hoffman - Owner / Designer/ Member
Avant Guard Flags & Costumes, LLC